Outdoors
At SUNDEK of San Antonio, we can resurface any existing surface at your residential or commercial space, creating a beautiful work of art.
Why resurface concrete?
People have their concrete resurfaced for a variety of reasons. One possibility is that their current concrete is in a style that's outdated. Another is that the color is faded and looks dull. Some people might just simply want a change. Maybe they've always had plain gray concrete and are looking to branch out and try stained concrete or stamped concrete. Others might have a concrete surface that's cracked, chipped, spalling, or has some other damage. No matter the reason, we're here to help!
Or call us: (210) 491-0280
What does it mean to have concrete resurfaced?
Resurfacing means we can place a coating right on top of your existing surface and make it look brand new. That means you don't have to go through the messy demolition process and start from scratch. As long as your existing concrete surface is structurally sound, we can resurface it.
How do you resurface concrete?
We thoroughly clean your surface, removing any dirt and debris. If necessary, we'll use grinding or shotblasting to prepare the surface. By filling existing cracks, we can prevent them from recurring on the new surface. Next, we lay the concrete resurfacing agent then get to work customizing it to your preferences. Finally, we seal everything.
At SUNDEK of San Antonio, we've been doing this type of work for 30 years, so we know all the ins and outs of resurfacing. Since we're familiar with the area's climate, we have insights into the best time of year and best time of day to complete specific aspects of the job. Let us help you with your project!
What types of outdoor spaces can you resurface?
We can apply coatings to just about any surface. Here are a few of the types of spaces we work with. (If you're looking for information about indoor concrete floors, go here.)
There's nothing quite like hanging out by the pool on a warm summer day. Let us help make your pool deck cool, comfortable, safe to walk on, and beautiful!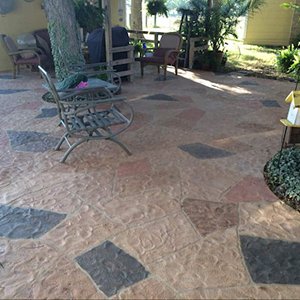 With our mild climate here in San Antonio, relaxing and entertaining outdoors is a favorite pastime for those of us in the area! We love helping our clients transform their patios into beautiful hangout spots.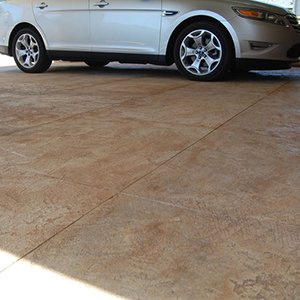 A driveway is often the first thing people see upon approaching a home or business, so it's an important feature for many. We create driveways that are durable, easy to clean, and beautiful, too.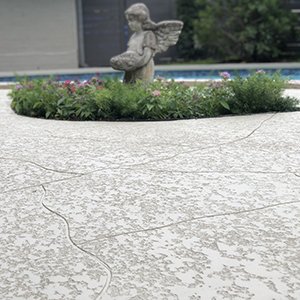 Walkways, entryways, and porches are like built-in welcome mats for your home. Let us help make yours beautiful.
What types of designs can you create?
Whether you want a design that's subtly beautiful and coordinates nicely with your home, or you want a design that's elaborate and bold, we can make it happen! We recommend that our clients take pictures of what they like and browse online to see what options are out there. We can also help guide you through the design process to help you nail down exactly what you want. The bottom line is that the design options are endless. We have a variety of colors, patterns, and textures to choose from. Additionally, if there's a particular material you really like (brick, limestone, wood, etc.) we can create that with a stamped concrete overlay.
Contact us to get started on your resurfacing project!
Call us: (210) 491-0280
Email us: [email protected]
Or fill out the form on this page
We work in all the major cities in the area including San Antonio, New Braunfels, Boerne, Shavano Park, Fair Oaks Ranch, Helotes, Cibolo, Garden Ridge, Schertz, Castle Hills, Hollywood Park, Canyon Lake, Bulverde, Spring Branch, Terrell Hills, and the surrounding areas.