Concrete Driveway Resurfacing
At SUNDEK of San Antonio, we have decades of experience with concrete driveway resurfacing in San Antonio and the Surrounding areas. Let us transform your driveway into a beautiful surface that enhances your property's curb appeal.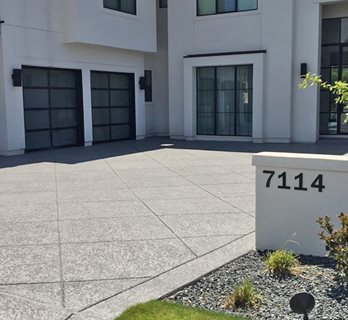 See more pictures of driveways
Can you resurface a concrete driveway?
Yes! Our clients resurface their driveways for a variety of reasons. Their existing concrete surface might be damaged, or perhaps the design is outdated and our client is ready for a change. Whatever the reason, resurfacing is a great solution.
With resurfacing, you don't have to tear out existing concrete. Instead, a coating is placed directly on top of your driveway. The coating can then be designed to meet your specifications.
Get a free quote
What is the best way to resurface a driveway?
The best way to resurface a driveway is to have an experienced contractor apply a professional-grade coating and then customize it to fit your design needs. Some homeowners and commercial property owners ask, Can I resurface my concrete driveway? While it's possible to do resurfacing on your own, we highly recommend hiring a professional contractor. A professional contractor with years of experience knows common pitfalls that occur, the right drying times, and what design options look best. When you hire a local contractor, they are also familiar with the conditions of the area and know the best time of year and weather to apply coatings so you end up with the best result possible.
Design options for driveway resurfacing
We love showing our customers what's possible for their driveways. Yes, driveways must be functional and durable, but they can also be beautiful. And you will definitely get a beautiful surface if you work with us. With all our color, texture, and pattern options available, you can get a driveway that perfectly matches your home's style.
In addition to being able to create the look of brick, cobblestone, or any other material, we can create custom stamps—even company logos.
Popular driveway finishes
There are many options to choose from when it comes to choosing the right coating for your project, but here are some of the most popular SUNDEK products used for driveways.
If you're not sure which product is right for your project, no problem! We're happy to come assess your project, look at your design, and help you decide.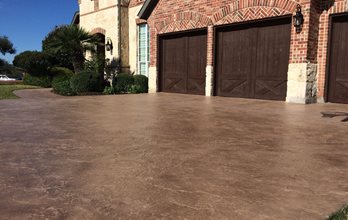 Sealing your driveway
Customers often ask if they need to seal their driveway, and our answer is always yes. Concrete sealing in San Antonio (and everywhere else) is absolutely necessary. After investing in your driveway, it is critical to seal it to maintain its look and durability. A high-quality sealer protects it from oil spills and other elements that can damage it. Your contractor can help you determine how often you need to reseal it to get the most out of your driveway. Read more about why sealers are important.
Concrete driveway surface repair
If your driveway has cracks, spalling, chipping, or any other type of damage, it's best to address it as soon as possible. Damage will only worsen, making the repair more expensive as time goes on. At SUNDEK of San Antonio, we are experts in concrete repair. We can resolve your damage, determine how it occurred, and help prevent it from happening again.
We can even incorporate cracks into a beautiful design. Learn more about our Custom Scoreline Effect.
Should I repair or replace my driveway?
To get the most accurate answer to this question, you need to have a reputable contractor such as SUNDEK of San Antonio come to assess your site. The main thing a contractor will be looking for is to confirm that your surface is structurally sound. For example, things like cracks, chipping, and fading can be resolved, but if there's exceptional damage such as extremely large cracks or crumbling spots as a result of a foundational issue, it may be best to replace your driveway. When a surface isn't viable, a reputable contractor will recommend that you replace your driveway rather than resurface it. A coating on top of a non-viable surface will only result in failure.
What is the cost to resurface a driveway?
The cost depends on many factors.
One factor is size. For example, a 300 square foot driveway will cost less to resurface than an 800 square foot driveway because the labor will take more time and more material will be used.
Another factor that comes into play is the type of design you want for your decorative concrete driveway. If you want a complex design with a variety of colors, that will cost more than a simple design with one or two colors.
The condition of your existing surface also affects the cost. If you have cracks, spalling, chipping, or other damage, the damage will need to be fixed during the resurfacing process. Though a concrete resurfacer such as SUNDEK of San Antonio can resolve damage, it does add to the cost.
The best way to get an accurate cost estimate is to have a contractor come out to assess your site and give you a quote. Contact us for a free quote.
Driveway resurfacing in San Antonio
If you're in San Antonio or the surrounding areas, we would love to help with your driveway resurfacing project. We also do driveway repair in San Antonio and the surrounding areas. Contact us for a free quote!
Call us: (210) 491-0280
Email us: [email protected]
Or fill out the form on this page
We work in San Antonio and all the major cities in the area including Boerne, Bulverde, Canyon Lake, Castle Hills, Cibolo, Fair Oaks Ranch, Garden Ridge, Helotes, Hollywood Park, New Braunfels, Schertz, Shavano Park, Spring Branch, and Terrell Hills.