In addition to resurfacing concrete, repairing concrete is a major part of what we do at SUNDEK of San Antonio.
Whether we're repairing a cracked driveway, discolored patio, spalling walkway, or chipped interior concrete floor, we restore the functionality and longevity of the concrete.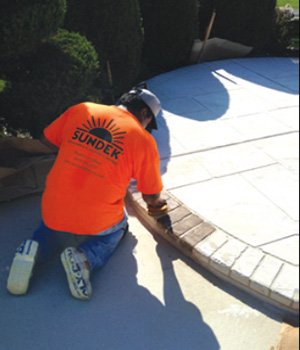 How does concrete get damaged?
Although it's durable and resilient, concrete can still get damaged due to a variety of reasons. Here are just some possibilities: It could have been improperly installed, the soil may not have been impacted properly, or it's possible there were problems with the concrete mix. Other factors like growing roots from a nearby tree or a sprinkler that continuously hits the same spot of your concrete can contribute to damage.
Or call us: (210) 491-0280
What to do if your concrete is damaged
Don't wait until the problem is too big to do something about it. Here's why:
If you wait too long and the damage is too severe, it's possible that the concrete will need to be completely ripped out and repoured.
If you catch it soon enough, you may be able to simply repair the spot where the damage occurred. Even if a simple spot treatment isn't possible, you can have a coating applied to the top of your existing surface so you don't have to rip the whole thing out. Coatings are much less expensive than replacements.
Cracks can be hazardous, creating spots where people might trip and fall.
We highly recommend having a professional contractor look at the damage to determine how the issue should be resolved. At SUNDEK of San Antonio, we have more than 30 years of experience in concrete repair. Not only are we skilled at performing repairs, we can also diagnose the cause and make recommendations that will help prevent future damage. After we're done, we can resurface your concrete if necessary. You can take this opportunity to give your concrete a new look. At SUNDEK of San Antonio we can stain it in a variety of colors, or stamp it to give you a pattern you love. In the end, it'll look like new.
What if I waited too long to repair it?
We still recommend calling a qualified contractor to look because it's possible that your surface can still be salvaged. For example, at SUNDEK of San Antonio we have taken surfaces with many cracks and found ways to incorporate the cracks into a beautiful design. When you look at the finish product, you'd never know it was previously damaged.
After your concrete is repaired
We highly recommend having an appropriate sealer applied after having your concrete surface repaired. It will help prevent your surface from experiencing future damage. Sealer should be regularly applied to increase the longevity of your surface.
Contact us to repair your concrete
Call us: (210) 491-0280
Email us: [email protected]
Or fill out the form on this page
We work in all the major cities in the area including San Antonio, New Braunfels, Boerne, Shavano Park, Fair Oaks Ranch, Helotes, Cibolo, Garden Ridge, Schertz, Castle Hills, Hollywood Park, Canyon Lake, Bulverde, Spring Branch, Terrell Hills, and the surrounding areas.