Stained Concrete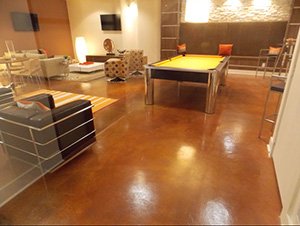 Stained concrete gives homeowners and commercial property owners the ability to get beautiful, durable floors in customized colors, patterns, and designs. If you're in San Antonio or the surrounding areas, and you're ready to add color to your existing concrete floors, SUNDEK of San Antonio can help! We've been staining concrete floors in the area for more than 30 years.
Free Analysis & Estimate
Or call us (210) 491-0280
Why choose stained concrete?
Not only is stained concrete beautiful—it also durable and ecofriendly. Many homeowners and business owners appreciate that it's easy to clean, too.
Staining options
We can stain indoor or outdoor floors, and we have several products we use for staining. The product that's right for you depends on the look you're going for. Watch this 2-minute video for an overview of our stains. You can also read the descriptions of each product below.
SunAcid. With this staining option, you have a variety of earth-toned colors to choose from. This acid-based stain creates a translucent marbled effect.
SunH20. This option gives you the ability to create vibrant colors that range from opaque to translucent. While this water-based stain doesn't etch the surface, its adhesive properties makes it last a long time. There are many color options available since you can layer and combine colors. This is a good option for people who have allergies or other sensitivities that might be activated by the properties of acid-based stains.
SunDye. This liquid is soluble in water or acetone. When you use it in combination with acetone, you get a darker, monotone look. When you use it in combination with water, you get color variation. When you use it on its own or with SunAcid, you'll get a specific color.
Need help deciding which product is right for you? Contact us!
What colors can I choose from?
The array of colors that can be achieved through concrete staining is amazing. Take a look at our color options for SunAcid, SunH20, and SunDye. We recommend browsing pictures of stained floors online to see what you like. You can show us what look you're going for, and we can help guide you in the right direction.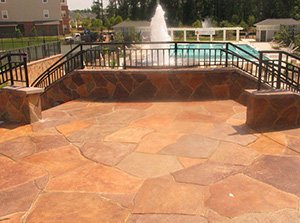 Why hire a professional to stain your concrete floor
A stain that's properly applied will not fade in color, chip, flake, or peel. When the surface is properly prepared, the stain penetrates deep below the surface, creating a durable and long-lasting rich color that requires minimal maintenance.
A professional contractor such as SUNDEK of San Antonio can also enhance the appearance of your stained concrete floor by adding aggregates. There are many possibilities including quartz beads, crushed colored glass, small pebbles, and more. Not only does this give you the look you want, it also makes the surface slip resistant.
How do you clean a stained concrete floor?
At SUNDEK of San Antonio, we apply a high-quality sealer over the top that protects your floor and prolongs the life of the stain. Regular maintenance includes using a dry dust mop or wet mop to get ride of dirt and grime. When needed, mop with a pH-neutral cleaner and water. Using a good floor wax from time to time will also help protect the surface.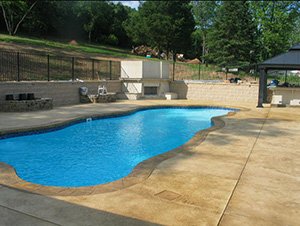 What if my floor is damaged?
Call us anyway! We specialize in concrete repair, so we can resolve any damage and make your floor look like it's brand new.
Contact us to get started on your pool deck project!
Call us: (210) 491-0280
Email us: [email protected]
Or fill out the form on this page
We work in San Antonio and all the major cities in the area including Boerne, Bulverde, Canyon Lake, Castle Hills, Cibolo, Fair Oaks Ranch, Garden Ridge, Helotes, Hollywood Park, New Braunfels, Schertz, Shavano Park, Spring Branch, and Terrell Hills.