Why work with SUNDEK of San Antonio?
With San Antonio's hot summers, mild winters, and sunshine for the majority of the year, pool areas are an often-used spot for many. We're committed to creating surfaces that are durable, safe, comfortable, and beautiful.
Request a free estimate
Do I have to tear everything out and start from scratch?
No! We can apply our durable coatings over the top of your existing surface, making it look brand new. We can work with any surface—even if it's chipped, cracked, spalling, or has other damage. Avoid the headache and the mess of a demolition project and let us help.
What kind of design options do I have?
The sky is the limit when it comes to designing your pool deck! We have a variety of colors, textures, and patterns to choose from. We can even mimic the look of other materials such as brick, wood, limestone, and more with a stamped concrete overlay. Keep in mind that we don't just work on pool decks. Many customers have had us redo nearby pathways and patios to match or coordinate with their new pool deck design.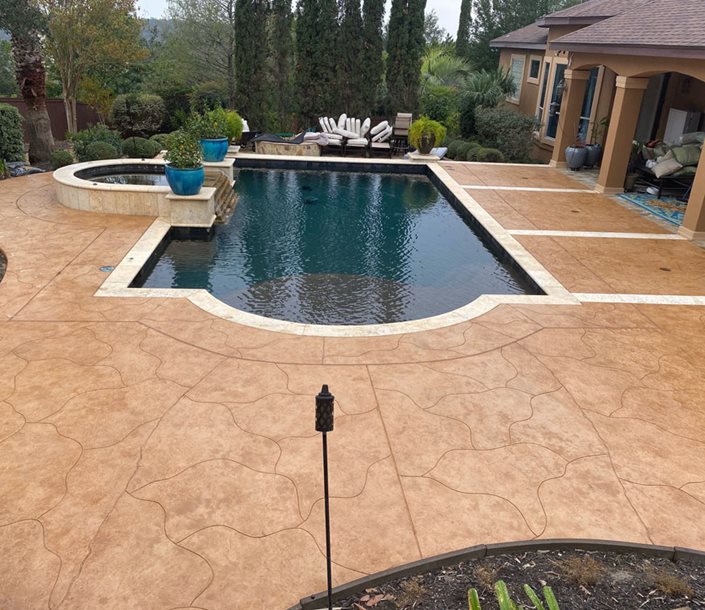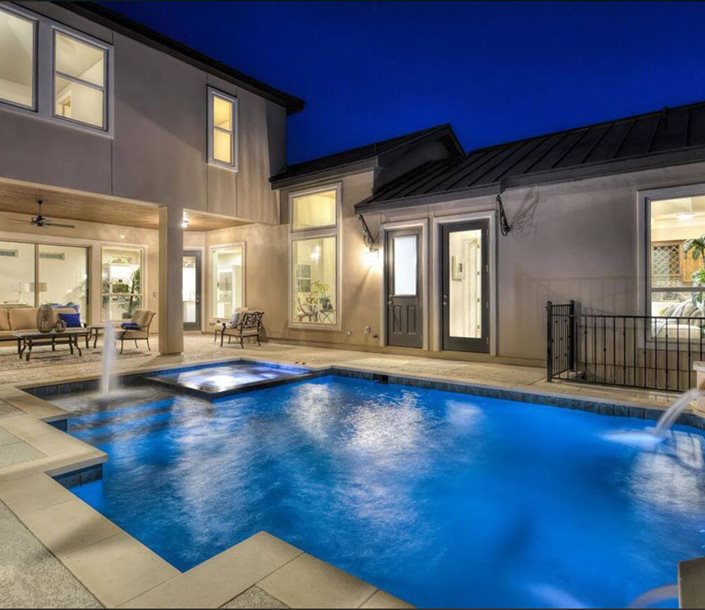 Is a SUNDEK surface comfortable to walk on?
Yes! We have a variety of textures to choose from that not only give your pool deck a unique look, but they also make the surface comfortable to walk on. Our coatings also have a reputation for being cooler than other surfaces, so you won't burn your feet on your way to the pool. (Tip: If your pool deck gets a lot of direct sun, we also recommend choosing a lighter color, which will stay cooler than dark colors.) See more about how we make our pool decks cool.
Is it safe to walk on?
Your safety is of upmost importance to us. We texture our surfaces so that they're not slick or slippery to help reduce the chances of a slip-and-fall injury near your pool. See more about how we strive to make surfaces that are safe to walk on.
What is your most popular coating for pool decks?
While we have many products to choose from, Classic Texture is by far our most popular choice for pool decks. You can customize it to give it just about any look you want. It makes the surface slip resistant and it's also non-porous, making it easy to maintain.
Do I need to seal my pool deck?
Yes. Sealing the surface will ensure that your surface lasts and looks fantastic for a long period of time. After assessing your pool deck location, we'll determine how often you need to seal it. Learn why sealers are a necessity to maintaining your pool deck.
Featured Project: Aloft Hotel Pool Deck Gets Colorful Coating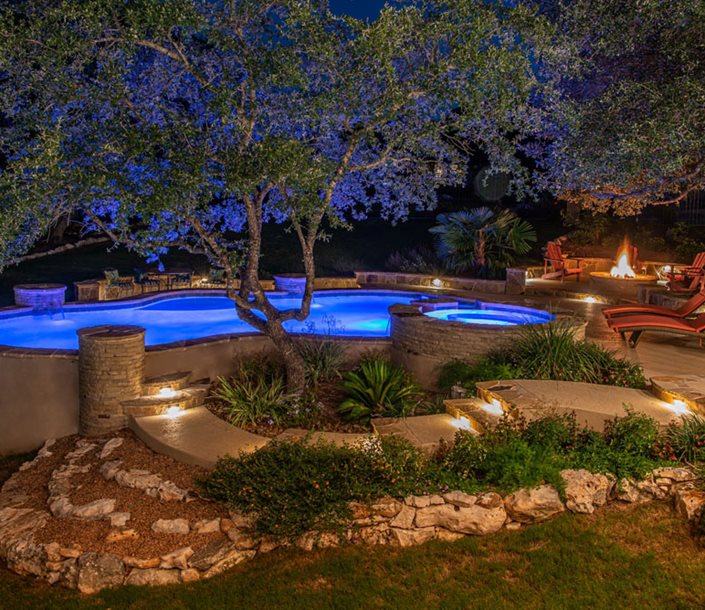 What is maintenance like?
Maintaining a pool deck by SUNDEK of San Antonio is straightforward and simple. General maintenance includes removing debris with a broom, hose, or blower every few weeks. For hard-to-remove stains, you can use a non-abrasive commercial cleaner.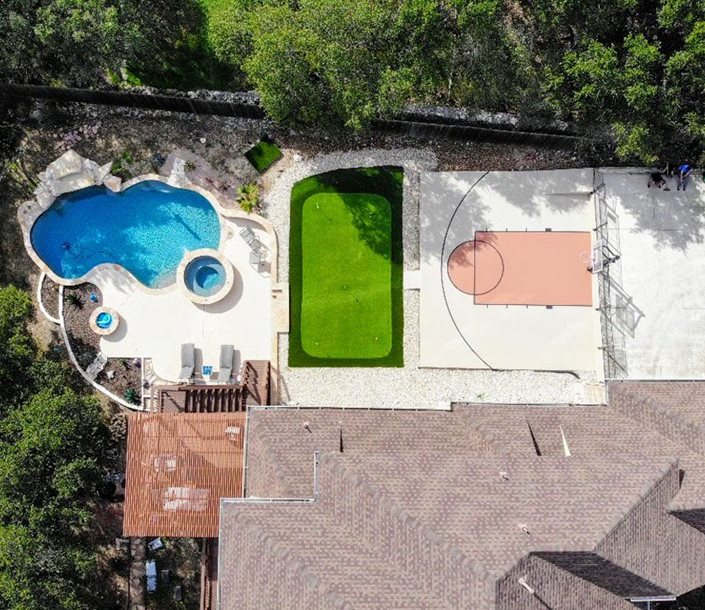 Why is concrete a better choice than other materials used for pool decks?
Generally speaking, concrete is the most popular pool deck material because of its durability, high-quality finish, and resistance to spills, stains, and weather changes. Concrete coatings are also available in limitless colors, designs, and patterns; and can work well with any décor. Here are some other materials used for pool decks and how they compare to concrete:
Concrete Pavers. While concrete pavers are available in various styles, colors, and designs, they are not seamless. They can move and shift independently depending on the surface stability and possibility of weeds growing in the joints. Concrete pavers can also be costly to buy and time consuming to install (so if you hire someone to do it rather than doing it yourself, it'll be expensive).
Unglazed tiles, otherwise known as Saltillo pavers or quarry tiles. These are sometimes used for pool decks, as they are slip resistant and low maintenance. However, they can be expensive, require timely maintenance, and are limited when it comes to colors and design options.
Wood. While wood offers a unique aesthetic appeal, it's expensive. It also requires exceptional care in installation, finishing, coating, and maintenance.
Bricks. Highly affordable, bricks come in various shades of red, brown, beige, and other colors. However, they are prone to chipping and may injure barefoot swimmers.
Related: Concrete Resurfacing Cost
Featured Video
Pool Deck Tour
This video gives you a close-up video tour of a pool deck we resurfaced using our Classic Texture product and scoring. Classic Texture is our most popular product for pool decks. Along with being beautiful, it's also cooler than other concrete surfaces, so you can hang out by the pool on hot days without burning your feet.
More Videos
Contact us to get started on your pool deck project!
Call us: (210) 491-0280
Email us: [email protected]
Or fill out the form on this page
We work in San Antonio and all the major cities in the area including Boerne, Bulverde, Canyon Lake, Castle Hills, Cibolo, Fair Oaks Ranch, Garden Ridge, Helotes, Hollywood Park, New Braunfels, Schertz, Shavano Park, Spring Branch, and Terrell Hills.
Free Analysis & Estimate