Stamped Concrete for San Antonio Homes & Businesses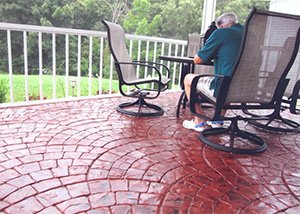 Stamped concrete is a great option for residential, commercial, and even industrial applications in San Antonio because it offers such variety in colors, patterns, and texture. We have been stamping concrete in San Antonio and the surrounding areas for more than 30 years!
How does concrete stamping work?
After concrete is poured, a concrete stamp is used to imprint a pattern into the fresh concrete. If you already have an existing concrete surface, you can still get stamped concrete without having to start from scratch. An experienced concrete contractor such as SUNDEK of San Antonio can apply a coating then add a stamp pattern so your surface looks brand new.
Watch this short video to learn more.
Designing with stamped concrete
Design options are limitless. You can get the look of just about any material you like such as wood, brick, natural stone, and more. If we don't already have something that fits the style you're looking for, let us know. We can create a custom stamp for you—we even do logos and other specific designs!
For design inspiration, look online and observe your surroundings. Maybe you like the look of the walkway along the San Antonio River Walk, or the flooring at the Spanish Governor's Palace or the Menger Hotel. If you need any ideas, let us know—we're happy to help.
Free Analysis & Estimate
Or call us: (210) 491-0280
Is stamped concrete slippery?
At SUNDEK of San Antonio, we can include textures or additives to make the surface slip resistant, making slip-and-fall accidents less likely. In fact, many of our clients choose stamped concrete for their pool decks. You'll get the look you love without having to worry about having a hazardous spot to walk.
Can you stamp over damaged concrete surfaces?
Even if your surface is cracked, chipped, or spalling, contact us. We're experts in concrete repair, and we're able to resolve everything from minor surface imperfections to major rehabilitation projects. In addition to fixing the damage, we'll analyze it to figure out the cause so we can prevent the same damage from occurring again. We can then apply a coating that we'll stamp. The surface will look brand new.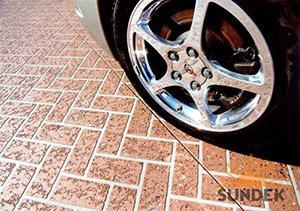 Maintenance for stamped concrete
The key to making your stamped concrete floor last is to make sure it's sealed with a high-quality decorative concrete sealer. The sealer will need to be reapplied every few years. At SUNDEK of San Antonio, we can assess your location and let you know exactly how often you need to reseal your surface for best results.
Our customers are often surprised at how easy it is to maintain a stamped concrete floor. General maintenance includes keeping the floor free of debris by regularly sweeping or blowing it off. You can also mop or hose off the surface every so often and use a non-abrasive cleaner to get rid of any buildup or spots that are hard to remove with just water.
Contact us about concrete stamping in San Antonio
Call us: (210) 491-0280
Email us: [email protected]
Or fill out the form on this page
We work in San Antonio and all the major cities in the area including Boerne, Bulverde, Canyon Lake, Castle Hills, Cibolo, Fair Oaks Ranch, Garden Ridge, Helotes, Hollywood Park, New Braunfels, Schertz, Shavano Park, Spring Branch, and Terrell Hills.