Stamped Concrete Patterns Look Like Slate, Flagstone, Wood, Brick and More
With concrete the design possibilities are endless. An experienced contractor can use stamped concrete patterns to create just about any look or texture you desire. When you work with a reputable contractor such as SUNDEK of San Antonio, you can choose from a variety of premade stamps or create custom stamps.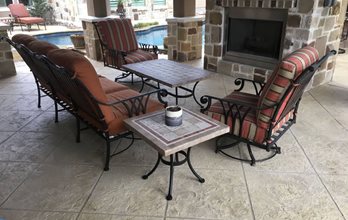 At this outdoor patio space in San Antonio, we created a textured floor with a tile pattern using stamping.
How does stamped concrete work?
If you have an existing concrete surface, a contractor who works with coatings such as SUNDEK of San Antonio will prepare the surface, apply a coating, and then use a stamp to imprint a pattern. If you are starting from scratch, a stamp can be used to imprint a pattern on freshly poured concrete. Learn more about the basics of stamped concrete.
Get a free quote
What types of patterns can you create with concrete stamping?
With concrete stamps, you can choose from a wide variety of patterns and textures or customize a stamp to get exactly what you want. Below are just some of the ways you can use stamped concrete to get the right look for your space.
Mimic the look of materials you love. Customers are often amazed to learn that we can create the look of just about any material using stamps and a concrete coating.
A decorative concrete contractor can create the following patterns using stamp mats: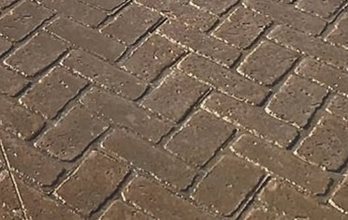 Brick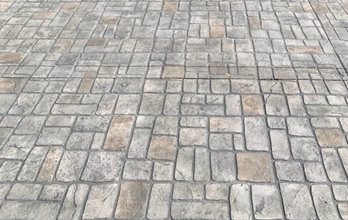 Cobblestone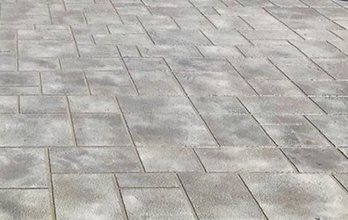 Ashlar slate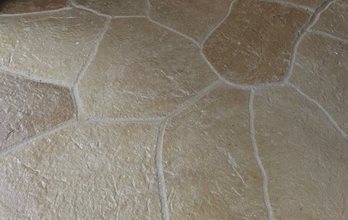 Flagstone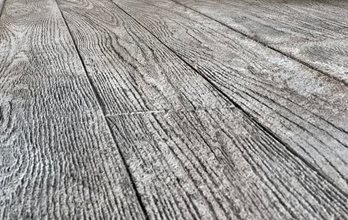 Wood planks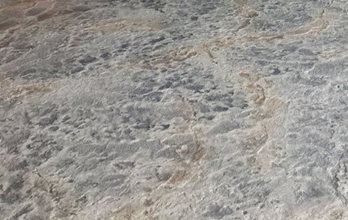 Seamless granite
Here are more stamping patterns popular for resurfacing patios, pool decks, or driveways:
Basketweave
Bluestone
Borders
Compass
European fan
Herringbone
Lone star
Lotus
Running bond
Stone tile
There are many perks to creating the look of a material rather than using the actual material for several reasons. Firstly, coatings are often more durable and can handle more wear and tear than the materials themselves. A concrete coating will last decades when cared for properly.
Additionally, coatings are often more cost effective than the actual material. In many cases, the cost of materials and labor to have a pathway laid using a material such as real brick is much more expensive than creating the look with a concrete coating and stamp. Concrete coatings are often much less expensive than the materials themselves—materials like natural stone can be very costly.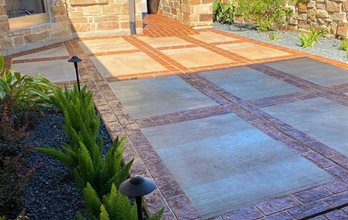 Mimicking the look of brick using SunStamp, we created a border on this pathway at a residence in San Antonio.
Custom patterns and designs
Create a custom logo. Since they are customizable, stamps are often used to create logos. We have worked with clients who want the logo of their favorite sports team imprinted on their garage floor. Schools have wanted an image of their mascot on the gym floor. When you work with a stamped concrete contractor such as SUNDEK of San Antonio, we can also do color matching to get the right look. See SUNDEK concrete color charts.
Give your surface a specific texture. When people think about stamping, they often think of patterns, but stamps can be used to give a specific texture, too. You can even apply a texture to a surface with no joint lines. The right texture can really add to the aesthetics of a space.
Get artsy & creative. As previously mentioned, there are basically no limits to what types of patterns and textures you can create using stamps, so make sure to think about what you really want. Whether you want subtle leaf imprints on your patio, seashell imprints on your pool deck, or something else creative, an experienced contractor such as SUNDEK of San Antonio can make it happen.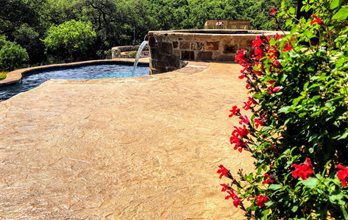 On this pool deck in San Antonio, we used stamping to create a beautiful texture that mimics the look of natural stone.
Need help figuring out a design?
If you know you like the idea of stamped concrete but you're not sure what exactly you want to do, we recommend browsing ideas online, in magazines, and around town. Save pictures of what you like to show your contractor.
A good contractor will come out to assess your site and discuss ideas with you. While it's good to have ideas in mind, an experienced contractor can help you narrow down your ideas or help you determine what would look good in your space.
Other options for textured concrete
In addition to stamping, interesting textures can also be achieved with the following coating systems:
Classic Texture - the original spray texture overlay system
SunStone - architectural limestone concrete coating
Tuscan - custom hand-troweled texture effect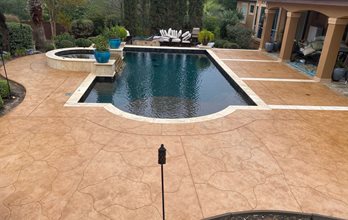 At a residence in San Antonio, we used stamping to create a subtle pattern on this pool deck.
Who does stamped concrete in my area?
We work in San Antonio and all the major cities in the area including Boerne, Bulverde, Canyon Lake, Castle Hills, Cibolo, Fair Oaks Ranch, Garden Ridge, Helotes, Hollywood Park, New Braunfels, Schertz, Shavano Park, Spring Branch, and Terrell Hills.
At SUNDEK of San Antonio, one of our favorite parts of the job is helping our client's visions come to life. We have decades of experience in the area.
We'd love to help with your stamped concrete project. Get in touch and we'll come to your property to give you a free quote.
Call us (210) 491-0280
Or
fill out the form on this page
to get a free estimate