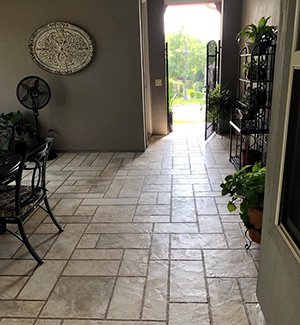 When people think of concrete floors, the outdoors typically come to mind. But did you know that you can have decorative concrete indoors, too? SUNDEK of Austin has been resurfacing interior concrete floors in homes and commercial spaces for more than 30 years.
Why choose decorative concrete?
Decorative concrete is superior to other types of materials typically found indoors. In addition to being durable and easy to clean, concrete floors reduce allergens since they don't attract dust mites, pollen, pet dander, and other allergens. With concrete and epoxy, you don't get have grout lines to clean like you do with tile. Spills are surprisingly easy to wipe up. There are many options when it comes to design, including staining your floors or stamping your floors. The list goes on.
Or call us: (210) 491-0280
Where can you put a decorative concrete floor indoors?
Concrete floors can go anywhere! Here are some of the indoor spaces we most commonly install.
Design options
There are many options when it comes to designing your interior concrete floors. With so many colors, textures, and patterns to choose from, the sky is the limit. At SUNDEK of San Antonio, we can even use concrete to mimic the look of any material you like such as wood or tile. If you feel overwhelmed by the choices, find pictures of floors you like and show us. It'll be our pleasure to help you narrow down ideas and figure out what will work best in your home or business. We love creating customized floors for our clients that they have designed specifically for their home or business.
Repair
If your existing surface needs to be repaired, no problem. We specialize in concrete repair. After we fix the cracking, chipping, spalling, or other damage, we will apply a coating that makes the entire surface look brand new.
How long does it take to install a decorative concrete floor?
The length of time it'll take to complete your project depends on the size of the project, the condition of your existing floor, and what type of design you're looking for. We always work diligently and efficiently so that you get the floor you love in a timeline that works for you.
Contact us to get started on your concrete floor!
Call us: (512) 928-8000
Email us: [email protected]
Or fill out the form on this page
We work in all the major cities in the area including Austin, Bastrop, Cedar Park, Dripping Springs, Georgetown, Lakeway, Marble Falls, Pflugerville, Round Rock, San Marcos, Spicewood, and the surrounding areas.