Why choose decorative concrete?
Decorative concrete is superior to other types of materials typically found indoors. In addition to being durable and easy to clean, concrete floors are hypoallergenic—they don't attract dust mites, pollen, pet dander, and other allergens. With concrete and epoxy, you don't get have grout lines to clean like you do with tile. Spills are surprisingly easy to wipe up. There are many options when it comes to design, including staining your floors or stamping your floors. The list goes on.
Free Analysis & Estimate
Where can you put a decorative concrete floor indoors?
Concrete floors can go anywhere! Here are some of the indoor spaces we most commonly install.
Design options
There are many options when it comes to designing your interior concrete floors. With so many colors, textures, and patterns to choose from, there are no design limitations. At SUNDEK of San Antonio, we can even use concrete to mimic the look of wood, tile, brick, or any other material you like.
If you feel overwhelmed by the choices, find pictures of floors you like and show us. It'll be our pleasure to help you narrow down ideas and figure out what will work best in your home or business. We love creating customized floors for our clients.
"
Repair
If your existing surface needs to be repaired, no problem. We specialize in concrete repair. After we fix the cracking, chipping, spalling, or other damage, we will apply a coating that makes the entire surface look brand new.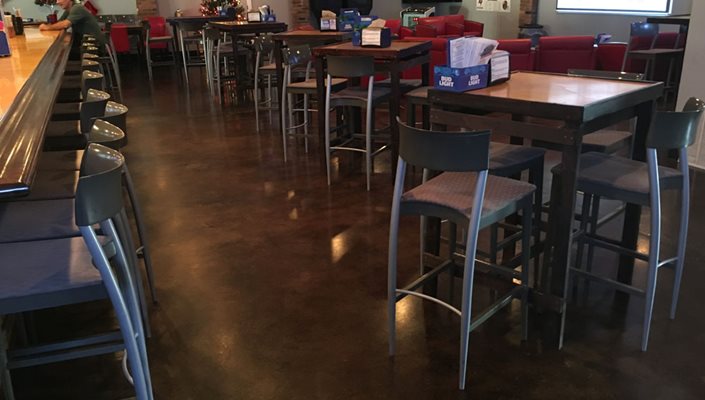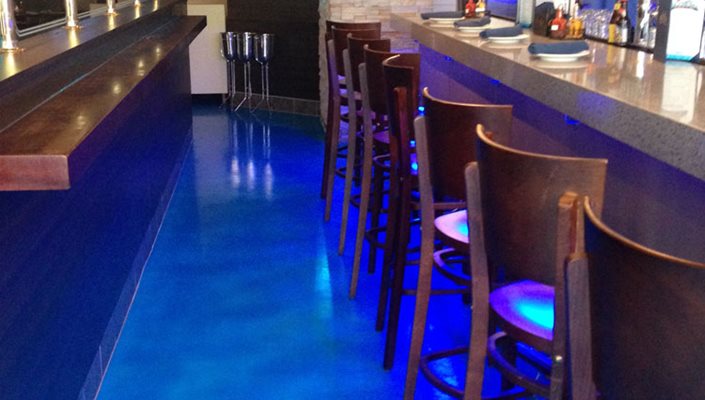 What are some benefits to SUNDEK coatings?
There are many benefits to using SUNDEK concrete or epoxy coatings rather than other commonly used flooring materials. For example, you won't have the hard-to-clean grout lines that you get with tile. Concrete and epoxy floors are also easy to keep clean, so they don't attract dust and other allergens like carpet tends to do. Unlike wood, concrete and epoxy floors can't get damaged from termites. And since our coatings are non-porous, it's easy to wipe up spills—preventing warping and other types of damage caused by water and moisture.
How long does it take to install a decorative concrete floor?
The length of time it'll take to complete your project depends on the size of the project, the condition of your existing floor, and what type of design you're looking for. We always work diligently and efficiently so that you get the floor you love in a timeline that works for you.
Featured Video
Barn Transformed for Entertaining with Faux Wood Floors
In Seguin TX, a homeowner asked us to remodel their horse barn and turn it into a multipurpose area. We resurfaced the floor, giving it an elegant wood herringbone pattern. For this project, we won a second-place award in DCC's Cementitious Overlays category for locations over 5,000 square feet.
More Videos
Contact us to get started on your concrete floor!
Call us: (210) 491-0280
Email us: [email protected]
Or fill out the form on this page
We work in San Antonio and all the major cities in the area including Boerne, Bulverde, Canyon Lake, Castle Hills, Cibolo, Fair Oaks Ranch, Garden Ridge, Helotes, Hollywood Park, New Braunfels, Schertz, Shavano Park, Spring Branch, and Terrell Hills.
Free Analysis & Estimate