Industrial Coatings near San Antonio
We install durable floors in spaces that need to withstand everything from oil spills to the weight of heavy machinery.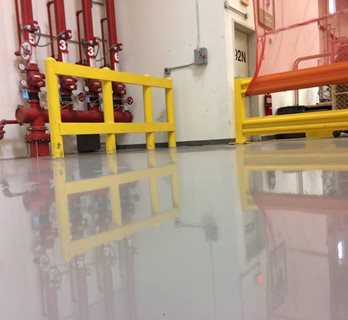 See more industrial flooring pictures
What types of industrial spaces use SUNDEK floors?
SUNDEK products have a reputation for being incredibly durable. Here are some locations where SUNDEK products have been used:
Airport hangars
Assembly plants
Distribution warehouses
Food processing
Institutional
Laboratories
Manufacturing facilities
Pharmaceutical
…and more!
See more applications for concrete floors.
Get a free quote
Products for industrial floors
We recommend getting either an epoxy or polyaspartic coating so you have a floor that lasts for decades despite harsh use. Here are the SUNDEK products we recommend for industrial floors.
SunEpoxy 54: This flooring is perfect for areas where light manufacturing occurs. It's also good for warehouses or automotive repair facilities.
SunEpoxy 100: This is a heavy-duty floor that can withstand even more abrasions and impact. It's good for spaces with frequent traffic from heavy machinery.
SunOne: This durable polyaspartic coatings is designed so that it can be applied and cured quickly.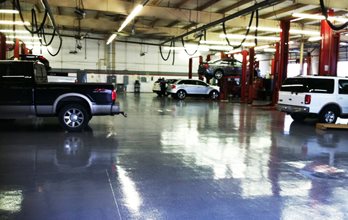 An industrial floor at a Ford dealership in San Antonio, TX.
Industrial floors that have cracks or other damage
If your existing floor has cracks, spalling, chips, or any other type of damage, give us a call. In addition to resurfacing, we are experts in concrete repair. As long as the surface is viable, we can repair it then resurface the area so it looks brand new. You'll never be able to tell where the damage was before.
Contact us to get started on your project!
Call us: (210) 491-0280
Email us: [email protected]
Or fill out the form on this page
We work in San Antonio and all the major cities in the area including Boerne, Bulverde, Canyon Lake, Castle Hills, Cibolo, Fair Oaks Ranch, Garden Ridge, Helotes, Hollywood Park, New Braunfels, Schertz, Shavano Park, Spring Branch, and Terrell Hills.