Epoxy Floor Coatings
If you want a beautiful floor that's also incredibly durable, epoxy coatings are the way to go. At SUNDEK of San Antonio, we install epoxy and polyaspartic coatings in all types of spaces—everything from residential garages to commercial warehouses.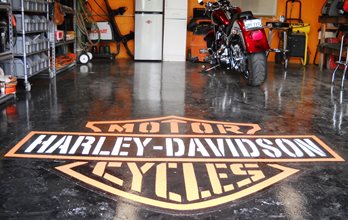 SUNDEK of San Antonio installed this epoxy floor with a custom logo at a garage in San Antonio.
What is an epoxy floor?
Epoxy is made from polymer resin and a hardener. It can be applied to concrete floors, giving them a layer of strong protection.
Get a free quote
Where are epoxy coatings installed?
Epoxy floors can go anywhere a durable surface is needed. They're not just for commercial properties, either. We have installed them in homes for homeowners looking for a surface that can withstand everything from tools falling on the ground to the weight of heavy machinery. Here are some of the types of spaces we've installed epoxy coatings:
Garages
Industrial floors (warehouses, airport hangars, etc.)
Kitchens
Laundry rooms
Restrooms
…and more!
Do epoxy floors get slippery?
As long as an epoxy floor is installed properly, it will not be slippery. An experienced professional contractor will use a product with skid-resistant components. Your safety is very important to us, and we take every precaution to install surfaces that are not prone to slip-and-fall accidents. Our years of experience installing flooring means we're well versed in the techniques required to install floors that are safe for people to walk on, even when wet.
SUNDEK of San Antonio created a checkerboard design for this epoxy garage floor in Canyon Lake, TX.
How much does an epoxy floor cost?
The cost of your project depends on a few variables: the size of your space, the condition of your existing surface, what type of design you want for your floor, and more. You can learn more about our costs here.
The best way to get an accurate estimate is to call us to review your site and give you a quote. Contact us to schedule a visit!
What is the difference between an epoxy coating and epoxy paint?
People often equate epoxy coatings to epoxy paint, but the two are very different. You've probably seen epoxy paint available to purchase at hardware stores. Epoxy paint typically contains just a small amount of epoxy, which makes it adhere better to surfaces. An epoxy coating, on the other hand, is mixed right before it's used. It's a combination of an epoxy resin and a hardener. Epoxy paint dries while an epoxy coating needs to cure. After applying epoxy paint you'll have a few layers of paint on top of your surface. After having an epoxy coating installed, you'll have a durable layer that coats your surface, providing lasting protection.
While epoxy paint is a more manageable DIY project, it won't last as long as hiring a professional to install an epoxy coating.
Learn more about the difference between epoxy paint and epoxy coatings.
What are the design possibilities for epoxy floors?
An epoxy floor doesn't have to be monotone. You can get creative with multiple colors, and even incorporate designs or logos. See all our color options. If you have a color in mind that you don't see here, be sure to ask—we create custom colors!
Cleaning epoxy floors
The fact that epoxy floors are so easy to maintain is just one of the reasons homeowners and commercial property owners love them so much. General maintenance includes sweeping or mopping the surface as needed to avoid buildup. For spots that are harder to remove, you can use a hose with a high-pressure nozzle or a pressure washer. A non-abrasive commercial cleaner can also help with stains. When spills occur, clean them up right away.
Contact us
We'd love to help with your epoxy or polyaspartic coating!
Call us at (210) 491-0280