Concrete Resurfacing Costs in San Antonio and the Surrounding Areas
How much does it cost to resurface concrete?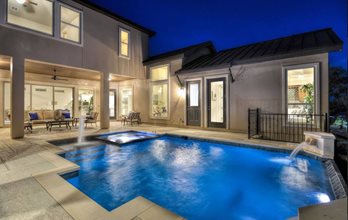 A residential pool area resurfaced by SUNDEK of San Antonio.
A common question we hear when discussing concrete resurfacing is, "How much does it cost?" It's an understandable question, of course—everyone has a budget and limits they need to set.
While we wish we could give everyone an answer right away, the truth about resurfacing costs is that it really depends. You could pay as little as $3 per square foot or as much as $25 per square foot. Here, we will cover some of the factors that influence resurfacing costs to give you an idea of what might impact your project price.
Contact us for a free quote
*Minimum prices for various applications range from $850 to $3500.
What influences resurfacing costs?
While the products you choose for your project do have a fixed cost, there are variables that will affect the price of your overall project.
Project size. How many square feet will be resurfaced?
Condition of the existing concrete. Does your surface have lots of cracks, spalling, chipping, fading, or uneven spots? Is there other damage? If that's the case, we can still resurface your concrete, but these fixes will add to the cost.
Product choice. Product prices per square foot vary from product to product.
Design choice. Are you looking to do something simple and monochromatic? It will likely be less expensive than if you want a design that's very elaborate and time consuming to create.
The great thing about working with us at SUNDEK of San Antonio is that we can help you determine your best options for your price point. Give us a call to get a free quote!
Resurfacing versus demolition
Another question we hear often is, "Is it less expensive to tear out my existing concrete?" Our answer to that is always no. As long as your surface is viable, the best option is to resurface the area.
When you resurface concrete rather than tear it out, you save on demolition costs that come from paying for the labor required to tear out the concrete and dispose of the materials (sometimes there's even a fee associated with concrete disposal).
For commercial property owners, avoiding demolition is desirable because your commercial property will spend less time looking like a construction zone.
It is important to note that we will never resurface concrete that isn't viable. If a surface is not structurally sound, we do not recommend resurfacing.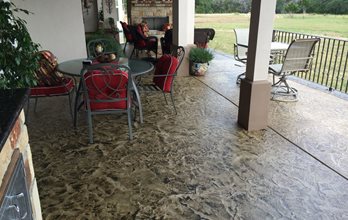 Using the stamped concrete technique, SUNDEK of San Antonio resurfaced this patio in Shrier, TX.
Is it expensive to resurface damaged concrete?
While it is more expensive to resurface damaged concrete than concrete in good condition, resurfacing is still a less expensive option than tearing your concrete out.
With SUNDEK of San Antonio, you'll get your money's worth as we are experts in concrete repair. In addition to repairing your surface, we'll also determine the cause of the damage and help you come up with ways to prevent it from happening again.
If you have substantial cracking in your concrete surface, you may want to look into our Custom Scoreline Effect technique which incorporates cracks into the design.
What customers say about our pricing
Here's what real clients had to say about what we charge for resurfacing:
We couldn't be happier with our refinished patio from Sundek! They came in for a reasonable cost and completely changed the look! (Madison L.)
The price they charged was comparable to the going rate, but they aren't the cheapest service out there for this type of product they produce. There are certain times you can get someone else cheaper, but you may pay for it in the long run. (Catherine W.)
Was very impressed with the professionalism of the employees and the reasonable cost. (Joe C.)
The price was fair and the work was promptly done. (Mike D.)
Get an estimate for concrete resurfacing
The best way to get an accurate estimate that matches the details of your specific project is to have a contractor such as SUNDEK of San Antonio come out to analyze your site. Contact us for a free estimate!
Contact us for a cost estimate
We'd love to hear from you
Call us at (210) 491-0280
Or fill out the form on this page