Walkways, Entryways, Stairs & Porches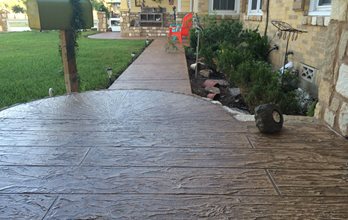 Create a good first impression or enhance the curb appeal of your property by improving the look of your walkways, entryway, stairs, or porch. SUNDEK of San Antonio has been helping homeowners and businessowners get beautiful surfaces in these spaces for decades.
See more pictures
Design options
Maybe you're looking for a stamped concrete finish or perhaps you might choose a Tuscan coating for a more unique and custom carved look.
No matter your design preferences, we can help. We have a wide variety of colors, patterns, and textures to choose from, so you can get the right look for your property. In addition to being able to create the look of brick, cobblestone, limestone, or any other material you like, we can also create custom stamps.
Get a free quote
What if my concrete is damaged?
Even if your concrete surface is damaged, we can help. At SUNDEK of San Antonio, we are experts in concrete repair. We can address cracks, spalling, chipping, or any other damage.
It's best to address damage as soon as possible before it gets worse and more expensive to fix. Even though you can technically fix damaged concrete yourself, we strongly recommend having a licensed contractor do it.
If you have an experienced contractor such as SUNDEK of Austin fix the damage, we can also assess what caused the problem and help prevent it from occurring again. We can also resurface the entire area, making it so you can't tell where the damage was.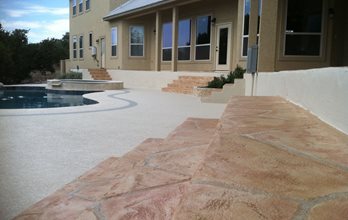 Can uneven spots on walkways be fixed?
Uneven spots on walkways can create a tripping hazard, so it is important to get those fixed. We can resolve uneven spots in concrete by applying the coating thicker in the low spots to create an even surface.
Can walkways be extended?
Yes! If you have an existing walkway and you don't like the width or length, you can easily add to it. We would have concrete poured around the existing walkway. From there, we could resurface the entire walkway—old and new— to make it appear as one continuous surface.
Get a free quote
Are SUNDEK coatings slippery?
Safety is important to us. That's why we strive to develop and apply our coatings in a way that decreases the risk of slip-and-fall accidents. This is a must for spots such as walkways and stairs, and even porches and entryways where there's a lot of foot traffic. Read more about SUNDEK's efforts to create anti-slip surfaces.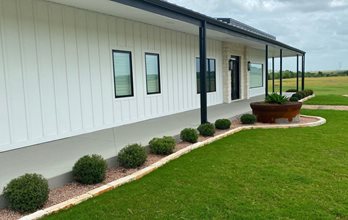 Contact us to get started on your concrete floor!
Call us: (210) 491-0280
Email us: [email protected]
Or fill out the form on this page
We work in San Antonio and all the major cities in the area including Boerne, Bulverde, Canyon Lake, Castle Hills, Cibolo, Fair Oaks Ranch, Garden Ridge, Helotes, Hollywood Park, New Braunfels, Schertz, Shavano Park, Spring Branch, and Terrell Hills.