DRIVEWAY DESIGN IDEAS FOR YOUR SAN ANTONIO HOME
Concrete Driveway Ideas
While many people invest in having the interior of their homes designed and decorated, they forget about the exterior. Curb appeal goes beyond enhancing the outside of a house in that it adds value. For instance, if you plan to sell your home within the next five years, any one of these suggested driveway ideas will make your property far more marketable. Even if you stay, your house will stand out as one of the most beautiful in the neighborhood.
Related: Driveway Resurfacing
Free Analysis & Estimate
Farmhouse driveway ideas:
Whether you have a historic farmhouse outside town or a newer build, here are ways to make your driveway coordinate nicely:
Affordably accent a long driveway with a decorative apron and borders
Choose finishes that are natural and organic, such as a slate or flagstone pattern
Recreate the country look of gravel, without the downsides by using exposed aggregate
Even if you live in a community where the majority of houses look the same, you can make yours stand out by changing the appearance of your driveway. Remember, you can always ask for driveway ideas. Having transformed many homes, we can offer endless suggestions.
Old World driveway ideas:
If you have ever traveled to a quaint part of Europe, you can create that same charming look with these ideas: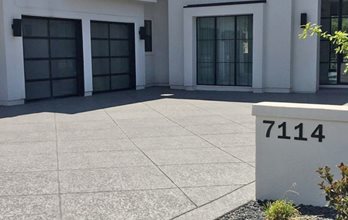 Sawcuts create a geometric grid on this modern driveway.
Modern driveway ideas:
Modern architecture is growing in popularity in San Antonio. Here are driveway ideas to complement a modern home:
Have your driveway poured in sections with turf or river rock in between
Use sawcuts to create a geometric grid that also helps prevent cracking
Get the look of exposed aggregate with our special aggregate effects coating technique
Stick with grays and tans depending on the exterior color scheme of your home
Waterfront driveway ideas:
Whether you live near Mustang Island or have a lakefront property, here are our top driveway ideas:
Have an overlay applied that mimics the appearance of river rock or cobblestone
Create a slip-resistant surface using a textured coating
Use different colors to further enhance the appearance of your home
Personalization – When it comes to driveway ideas, most people want something unique. By using one of the top decorative concrete products available, like Classic Texture and SunStamp, there are no limitations as to what you can accomplish. An acrylic spray texture overlay allows you to create a one-of-a-kind surface that looks beautiful and lasts a long time. The way to personalize this is by having us customize the overlay using masonry effects, score cut lines, or various aggregates.
Contact us for a free quote on your driveway
Call us: (210) 491-0280
Email us: [email protected]
Or fill out the form on this page
We work in San Antonio and all the major cities in the area including Boerne, Bulverde, Canyon Lake, Castle Hills, Cibolo, Fair Oaks Ranch, Garden Ridge, Helotes, Hollywood Park, New Braunfels, Schertz, Shavano Park, Spring Branch, and Terrell Hills.