Simple Backyard Patio Ideas
Patios make a great spot for family and friends to gather, so make your patio a place you love to spend time in! Here are some ideas for updating your outdoor hangout space so you can transform it into a place that fits your functional needs and design style.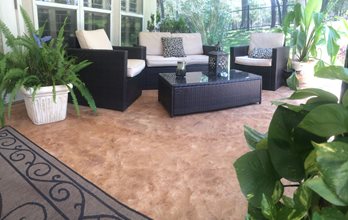 SUNDEK of San Antonio resurfaced this patio in La Vernia, TX. Plants placed around the patio surface, comfortable chairs and pillows make this an inviting space for the residents and their guests to spend time
Deep clean your patio surface. A thorough cleaning every year or so can make a huge difference in the look of a space. Before you clean, remove all your patio furniture to ensure you don't miss any spots. Clean the surface using a pressure washer or a hose with a high-pressure nozzle. For stains that are hard to remove, use a commercial cleaner formulated for the surface.
Get a free patio estimate
Resurface your patio. If your concrete surface is damaged, outdated, or just needs an update, patio resurfacing is a great solution.
With concrete resurfacing, an experienced contractor such as SUNDEK of San Antonio can apply a concrete coating directly on top of your existing concrete surface. That means you don't have to tear your concrete out to get the look you love. Avoiding a demolition saves you time, money, and a mess.
With resurfacing, you can customize your coating to create any style, whether you want subtle or eye-catching. With staining, you can get one color or multiple colors that match or coordinate with your space. Concrete stamping gives you the ability to create a wide variety of patterns—you can even create the look of brick, cobblestone, or any other material you like.
Add or replace plants. If you have pots with sad-looking plants, we highly recommend taking the time to refresh the soil and replace dying plants (don't forget that you can compost them!). If you're missing greenery altogether, liven things up by adding plants. Here are some ideas:
Hang plants from a patio cover. Hanging plants create a soothing aesthetic, and they can even serve to provide screening from neighbors.
Put a group of three planters together in a corner of the patio (make sure to consider the sunlight needs of all the plants you to include).
Go vertical with a trellis and vine. Not only does a vine growing up a trellis along the side of an exterior wall look beautiful—it also acts as insulation indoors for the room on the other side of the wall. If you do decide to go this route, be sure to stay on top of pruning it back so it doesn't get out of control or damage your home or other structure.
If you have the space and the funds, plant a tree along your patio space to provide shade, beauty, and even fruit! Be sure to give the tree's roots plenty of room so they don't interfere with your hardscaping.
Include lighting. The right lighting can extend the time spent outdoors. Here are some ways to add lighting to your outdoor patio space:
Drape string lights along a patio cover. This simple addition has the power to transform your patio into a magical space in the evenings.
Hang lanterns. Similar to string lights, hanging lanterns can create a fun, elegant, or bohemian vibe depending on the style you choose.
Install uplighting near trees and large shrubs. Spotlighting the beautiful plants in your garden is a great way to add interest for guests in your patio area.
Put lights along a pathway. Lighting up walkways is a nice way to brighten things up and it's also safer for you and your guests.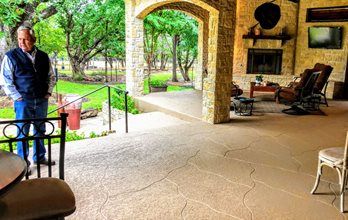 At this patio in Bandera, TX, SUNDEK of San Antonio coated the surface and gave it a customized pattern with scorelines. The fireplace and comfortable furniture tucked into the corner and overlooking the garden makes for an inviting space.
Maximize comfort. There are many ways to make your patio space more comfortable to ensure your guests hang out longer. Here are just a few ideas:
Invest in a fire pit. The warmth and ambiance a fire pit creates for a patio space is unbeatable. Unless you have the perfect spot for a fire pit, look into one with wheels so you can move it around if necessary.
Get comfy furniture. This seems like a no-brainer, but sometimes people tend to focus on the look of patio furniture and overlook the functionality when they're making their purchases. If your furniture isn't comfortable, you and your guests won't be as likely to spend as much time in your patio space. Quality cushions can make a big difference for chairs and loungers that aren't very comfy on their own.
Store blankets in a convenient spot. Soft blankets that you and your guests can easily grab when temperatures drop will help to extend the amount of time you all want to spend tie outdoors.
Add a space heater. If you don't have a fire pit or you need additional ways to stay warm, a space heater is a good option. You can get wall-mounted heaters or freestanding heaters. If you go the freestanding heater route, pay attention to the height of the heater as it relates to the patio cover. You'll need enough clearance between the top of the space heater and your patio cover to adequately safeguard from fire hazards.
Provide ways to cool off. Much like warmth will extend your time outdoors on cool evenings, providing ways to cool down will extend your time outdoors in afternoon on warm days. Here are some ways to prevent your patio from being an unbearably hot spot during summer.
Add shade. There are many options when it comes to adding shade including umbrellas, shade sails, canopies, and nearby trees (if you have the space).
Install misters. Not only do misters provide relief from the heat on hot summer days, they also help keep the bugs away.
Reduce clutter. Whether you have a lot of yard toys for kids to play with, gardening tools you use for your outdoor maintenance, or outdoor dining things, find a spot to hide those things away will make your patio space easier on the eyes. Here are several storage solutions:
Potting bench
Small shed
Storage cabinet
Storage bench that doubles as seating
Coffee table with shelf (store bins on the shelf)
If you're looking to remodel your patio space and want help transforming your concrete into something beautiful, contact us!
Call us: (210) 491-0280
Email us: [email protected]
Or fill out the form on this page
We work in San Antonio and all the major cities in the area including Boerne, Bulverde, Canyon Lake, Castle Hills, Cibolo, Fair Oaks Ranch, Garden Ridge, Helotes, Hollywood Park, New Braunfels, Schertz, Shavano Park, Spring Branch, and Terrell Hills.