Creating a Visual Connection Between an Existing Patio & New Pool Deck
Homeowners of a property in New Braunfels, Texas, hoped to upgrade their outdoor space: their backyard already had a patio with a cabana, and they wanted to add a pool. For these homeowners, it was important that the two spaces had matching surfaces so the outdoor area would have a cohesive, elegant look. P&J Pools, the family-owned business hired to construct the pool and deck, reached out to SUNDEK of San Antonio about resurfacing both the new pool deck and existing cabana area.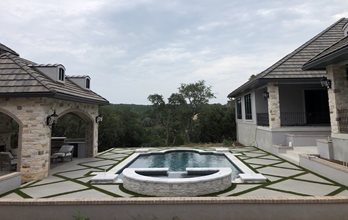 At this backyard in New Braunfels, TX, SUNDEK resurfaced the existing patio area (at left) and the brand-new pool deck.
Get a free resurfacing estimate
SUNDEK can resurface any slab of concrete, whether it's old or brand-new. So, making the brand-new pool deck match with the surface of the existing patio wouldn't be a problem. (In fact, SUNDEK specializes in extending existing concrete surfaces.)
For the entire surface which includes the patio and pool deck, P&J Pools suggested an aggregate effect. To achieve aggregate effects, SUNDEK crews spray multiple speckles of different colors to create the appearance of washed aggregate concrete. Not only does this add character to the surface, but it also protects it from the elements.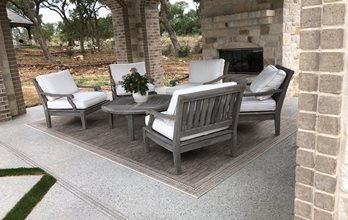 One of the appeals of aggregate effects is its ability to hide dirt and grime. SUNDEK of San Antonio used four colors here: Tweed Gray, Oyster White, Pewter Gray, and Smoke Gray.
The benefits of aggregate effects are appealing to homeowners—especially in a backyard setting. Since it includes multiple colors, it camouflages dirt and grime that gets tracked on the surface. The resulting texture makes the surface slip resistant which is ideal for a pool area.
For this project, SUNDEK of San Antonio chose four colors. For the base, Tweed Gray; for the first aggregate, Oyster White; second aggregate, Pewter Gray; third aggregate, Smoke Gray. When combined, these colors help give the concrete coating a subtle yet classy appearance. An added benefit is that the light color helps prevent the surface from getting too hot on scorching summer days.
Related: Concrete Patio Resurfacing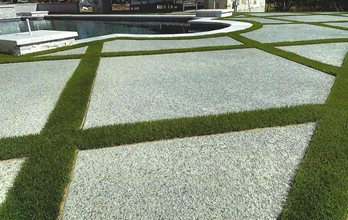 Aggregate effects is an appealing application around pool decks—the resulting texture creates a slip-resistant surface.
The homeowners loved the proposed look and SUNDEK of San Antonio set out to design the surface. Because the aggregate effects were being applied on a brand-new pool deck, SUNDEK crews were fortunately able to do their work during the construction phase—before any landscaping was completed. Not having to work around finished landscaping or other elements made the process straightforward.
SUNDEK of San Antonio completed the aggregate effects for the entire 1,700 square-foot pool deck and patio area. In the end, the homeowners have a stunning spot to lounge and hang out under the cabana with family and friends.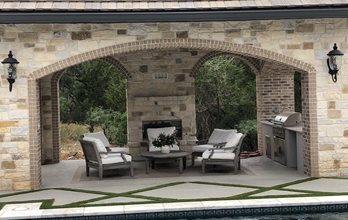 Though the patio space was an existing surface and the pool deck is brand-new concrete, the transition is essentially seamless. Thanks to SUNDEK's resurfacing techniques, you can't tell where the existing surface ends and the new begins.
If you're looking to remodel your patio or pool deck and want help transforming your concrete into something beautiful, contact us!
Call us: (210) 491-0280
Email us: [email protected]
Or fill out the form on this page
We work in San Antonio and all the major cities in the area including Boerne, Bulverde, Canyon Lake, Castle Hills, Cibolo, Fair Oaks Ranch, Garden Ridge, Helotes, Hollywood Park, New Braunfels, Schertz, Shavano Park, Spring Branch, and Terrell Hills.