Custom Splash Pad & Waterpark Coatings by SUNDEK of San Antonio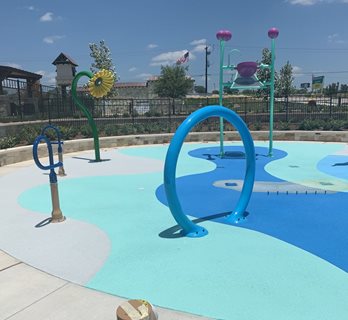 More Pictures of Waterparks & Splash Pads
At SUNDEK of San Antonio, we have resurfaced pool decks and other surfaces at waterparks in San Antonio in the surrounding areas. We've also installed splash pads in many other types of locations—playgrounds, apartment complexes, community spaces, and more.
Splash pad safety
We know that safety around wet surfaces is a major concern for property owners. Safety is one of our priorities. The products we use to install splash pads are strategically designed to be anti-slip to prevent slip-and-fall accidents. We also texture the surface in a way that assures it doesn't get slippery when wet.
Get a free quote
Pool deck safety
SUNDEK products are used at many pool decks around the country at both public and residential pools. Just like our splash pads, we install our pool decks with a texture that makes them safe to walk on when they're wet. See more about how we install anti-slip surfaces.
Comfort
You don't want your visitors burning their feet on hot summer days, and neither do we! That's why we create surfaces that are comfortable to walk on, no matter the weather. While you can't always control how much sun beats down on your surface, there are some factors that you can control:
Color. Dark surfaces retain more heat while lighter colors remain cooler.
Material. Some materials absorb less heat than others. SUNDEK products are specifically designed to retain less heat.
Texture. Textured surfaces stay cooler than smooth surfaces.
Learn more about how SUNDEK installs surfaces that are comfortable to walk on.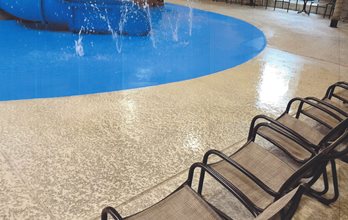 Design options
In addition to safety and comfort, we all know that aesthetics are also important! Having an eye-catching surface is a great way to attract visitors to your location. The good news is that in addition to creating surfaces that are safe and comfortable to walk on, we can also make them beautiful.
With SUNDEK products, there are a wide variety of colors, textures, and patterns to choose from. We have created custom patterns for customers, and can even create your company logo on your surface. Just let us know what you have in mind, and we can make it happen.
Contact us to get started on your project!
Call us: (210) 491-0280
Email us: [email protected]
Or fill out the form on this page
We work in San Antonio and all the major cities in the area including Boerne, Bulverde, Canyon Lake, Castle Hills, Cibolo, Fair Oaks Ranch, Garden Ridge, Helotes, Hollywood Park, New Braunfels, Schertz, Shavano Park, Spring Branch, and Terrell Hills.