Polyurea Polyaspartic Coatings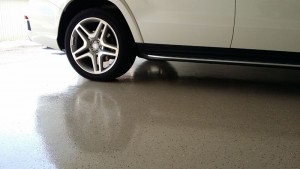 Your garage is the perfect location for this product and sealer. If you want your
garage floor
to look like an upscale car dealership showroom floor, polyurea polyaspartic coatings are the products to choose. Cleanup is easy with a moist mop.
WHAT ARE POLYASPARTIC COATINGS?
A polyaspartic is a type of polyurea (actually a polyaspartic aliphatic polyurea). Polyurea as a commercially viable material was developed in the 1980s by Texaco Chemical Company (now Huntsman Chemicals). All polyureas are two-part systems, meaning that a resin (part A) has to be mixed with a catalyst (part B) to create the curing reaction that hardens the material. Polyurea has been used very successfully for corrosion-resistant coatings and repair materials, although application is awkward since it has an extremely short pot life-about 3 seconds, so the two parts must be mixed at the spray tip, requiring lots of maintenance on expensive high-pressure equipment.
Polyaspartic polyurea (or simply polyaspartics) overcomes many of those difficulties, while retaining the advantages. According to Bayer Material Science, polyaspartics are "based on the reaction of an aliphatic polyisocyanate and a polyaspartic ester, which is an aliphatic diamine." I bet you're glad we got that cleared up!
Free Analysis & Estimate
BENEFITS OF POLYASPARTIC COATINGS
The two biggest advantages of a polyaspartic or polyurea garage floor coating are temperature and time.
Unlike epoxy, a polyaspartic coating can be applied in temperatures as low as -30F to as high as 140F depending on the formulation.
Typical polyurea and polyaspartic floor coatings are applied in just two coats; the first being both the primer and color coat and the second being the clear coat. Because of their fast cure rates, a complete flooring system can be installed in one day and returned to service the next. This means that you won't have to do without your garage for 3-4 days like you would for a full epoxy system.
There are many other benefits to a polyurea/polyaspartic floor coating as well. These include:
100% U.V. stability – they will never yellow.
Won't blush from moisture in the concrete.
High abrasion and scratch resistance.
High tolerance to hot tire pick up.
High gloss finish
Little to no VOC's in most applications.
High stain and chemical resistance.
Good flexibility for higher impact resistance