Offices & Business Parks - Concrete Coatings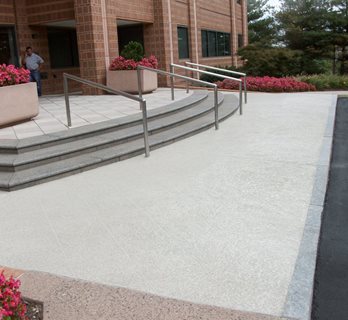 More Pictures of Offices & Business Parks
Whether you're building a new office or business park or want to make upgrades to the space you already have, SUNDEK of San Antonio can help. We've been installing durable, beautiful coatings at offices and business parks in San Antonio and the surrounding areas for decades.
Why resurface concrete?
Resurfacing concrete is a great option for property owners who want to upgrade their floors without the mess and headache of a demolition job. As long as you have a viable surface, we can install a decorative concrete or epoxy coating right on top of your existing surface and customize it to fit your style. It's more cost effective and eco-friendly than ripping out the concrete you have now.
Get a free quote
Design options
We can create whatever you dream up. Since we have a large selection of colors, patterns, and textures to choose from, you just need to let us know what you have in mind and we will make it happen. In addition to being able to create classic patterns, we can also do custom work. If you like the look of brick, cobblestone, wood, or any other type of material, we can create that look using concrete. We can even recreate your company logo on an entryway, conference room floor, or anywhere else you'd like.
How long does it take to resurface concrete?
The amount of time a resurfacing project takes depends on the condition of your existing surface, the size of your space, and the type of design you want. At SUNDEK of San Antonio, we work diligently to get your job done well, but we also work efficiently to get it done as quickly as possible. That way you can get back to business as usual.
Potential resurfacing spaces at offices & business parks
Decorative concrete and epoxy floors are for indoor and outdoor areas! Here are some of the spaces we've resurfaced at offices and business parks:
Bathrooms
Courtyard areas
Entryways
Office gyms
Parking lots
Stairs
Waiting rooms
Walkways
…and more!
Damaged surfaces
If your concrete is cracked, spalling, uneven, or has any other type of damage, we can help. In addition to resurfacing, we are also experts in concrete repair.
Contact us to get started on your project!
Call us: (210) 491-0280
Email us: [email protected]
Or fill out the form on this page
We work in San Antonio and all the major cities in the area including Boerne, Bulverde, Canyon Lake, Castle Hills, Cibolo, Fair Oaks Ranch, Garden Ridge, Helotes, Hollywood Park, New Braunfels, Schertz, Shavano Park, Spring Branch, and Terrell Hills.